Study Groups
Quick Facts
ALL groups are accepting new members
each group's first meeting will be set based on the schedules of those who register
What are Study Groups?
These information exchanges are your chance to swap experiences, materials and best practices that advance funeral homes to the next level of success. Participants are asked before the event to:
send topics you'd like the group to discuss in advance;

bring materials with you that you wish to share with participants; and

be prepared to describe any projects or actions you're considering. Study Group participants will act as your consultants by offering their opinions, experiences and insights.
"When I bought my second location, those study groups and OGR overall were invaluable because they coached me on what it would be like to have a second location and how to make it through that transition, both the challenges and the positives....It's a resource and a network of funeral directors.
"When COVID came along, a bunch of us were texting each other different ideas....
We brainstorm and support each other and come up with some really creative ideas.
"
Charles Castiglia
Lakeside Memorial Funeral Home
Hamburg & West Seneca, NY
OGR's newest Study Groups
In addition to our North America and Global study groups, we will also have East Coast and West Coast groups. The date and time of each group's first meeting will be determined based the schedules of those who register.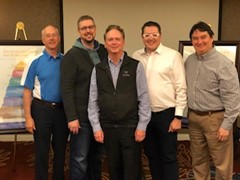 Each regionally based study group will meet in-person periodically throughout the year to explore ways to fulfill increasingly diverse requests for services, achieve profit goals, and attract new customers.
Using a combination of discussion methods, internal and external expertise, and industry data, the Study Groups work toward a list of achievable actions that participants can implement at your business.
If you're looking to exchange information and learn successful strategies from colleagues that can help advance your funeral home to the next level, then joining a Study Group is right for you!
Cost
Participation in all four groups is free of charge, but you will need to be able to pay for your own travel expenses.
Questions?
Email OGR Executive Director Wendy King.
---
2022 Study Group Sessions
NORTH AMERICA STUDY GROUP SESSION | August 21-23, 2022
Hosted by Paul Hummel, III, Hummel Funeral Homes, Akron, OH, and facilitated by George Darte, George Darte Funeral Chapel, Ontario, Canada.
Schedule
August 20 – Optional golf outing or Pro Football Hall of Fame tour with Paul Hummel
August 21 – Group Dinner
August 22 – Study Group Session (8-5pm); Group Dinner
August 23 – Study Group Session (8-12pm)
• Hotel information forthcoming.
• For more information, contact Paul Hummel at [email protected] or 330-701-3153.
---
WEST COAST STUDY GROUP SESSION | October 2-4, 2022
Hosted and facilitated by Chris Miller at Thomas Miller Mortuary & Crematory, Corona, CA.
Schedule
October 1 – Optional Winery Tour with Chris Miller
October 2 – Group Dinner
October 3 – Study Group Session (8-5pm); Group Dinner
October 4 – Study Group Session (8-12pm)
• Hotel information forthcoming.
• Contact Chris for more information at [email protected] or 951-505-6101